"Why fit in when you were born to stand out?"
Cassandra and Nikki had a fantastic time at Meaghan's Music Room!  Each day when we would pick them up they said they had a great time spending time with both Christian and the friends they made.  We would like to thank you for the opportunity to participate in the program.  The work you do with our children is to be commended and is so so appreciated.  Your organization gives individuals living with intellectual disABILITY an opportunity to express themselves through music and give them the confidence they need to take on the WORLD!!!
On behalf of Cassie's Place Day Program THANK YOU 💓 and we look forward to further opportunities in the future.
Victoria, Michelle and Tara
Cassie's Place Day Program
William loved it too. I was smiling through and through while reading everything the campers wrote. I know it must have been difficult getting some of the information out, but it was so nice that you shared this. Thank you so much!
Dely
Katie-Ann loves to go to camp too…this time she was happy to spend time with her friends and was thrilled to make a new friend!
Cindy
Cassandra absolutely loved it! She spoke often about how Christian was so much fun and how much she enjoyed going everyday. Thank you again for how much you made Cassandra feel that she can do anything.
Warmest regards
Jacquie and Cassandra❤️
Meaghan's Music Room….thank you so much for sharing! This is one of the most heart-warming things I have ever read. You and everyone at the studio do an amazing job at giving these young adults a 'voice' and to read what each of them has said is absolutely wonderful! Thank you for all that you do and thank you for sharing this!
We are excited for the summer camps!
Michelle Ruso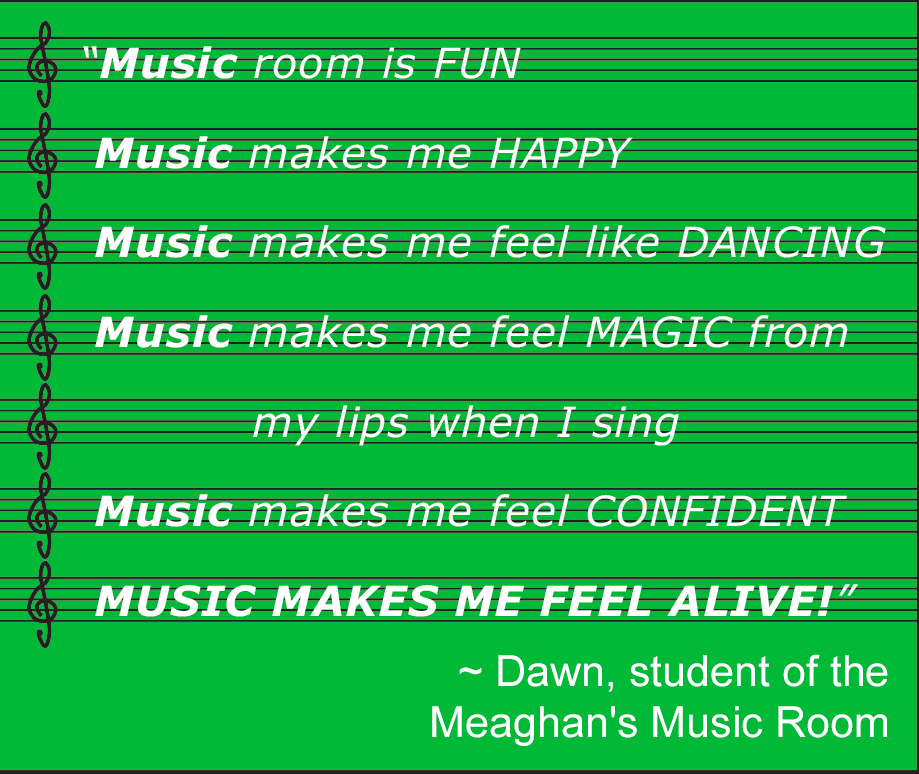 "You're braver than you believe, stronger than you seem, and smarter than you think."